The end-year sales and production figuresreleased this week by Tesla (NASDAQ:TSLA) emphasise once again the increasing importance of Asia to the company.
Chinese production continues to increase more strongly than analysts had anticipated. Conversely, the opening up of new factories in the USA and in Germany will increase the importance of Asia. It will enable the huge markets of Asia (the world's largest auto market) to be opened up much more to the Tesla product.
Tesla is investing increasingly in its China operations. It will, however, need to ensure it does not fall foul of the Chinese regulators. Tesla has huge investments in Chinese employment and facilities. It provides prestige exports for the country. It should thus be able to address any CCP concerns in the same way as Apple (NASDSAQ:AAPL) has done over the years. It remains to be seen though whether Elon Musk can be as good a diplomat as Tim Cook.
The Chinese operations are additionally attractive to Musk for opening up new markets in Asia. China has a strong hold on lithium supplies as well as cobalt and nickel. It has almost a stranglehold on lithium-ion batteries. Long-term, Tesla should be able to source its base materials more easily there than elsewhere.
Most attractive of all perhaps is the assessment that its Shanghai operations are running on 40% gross margins as compared to 20% at Fremont. This allows the company to be more flexible on pricing where necessary and is a substantial factor in the increasing profitability of the company.
China Operations
Elon Musk recently stated that the company is now producing more vehicles in Shanghai than in Fremont. The gap will surely widen in the future. His experience with the endless delays in Germany may encourage him to put more manufacturing resources into Asia.
Forecasts are all over the place after professional analysts got the 2021 numbers so wrong. One observer who has been quite accurate in the past has forecast 1 million autos ex Shanghai in 2022 out of a forecast world total of 1.85 million. If accurate, Chinese production would be more than Fremont, Austin and Brandenburg combined.
In November last year, production figures were 52,859 units. So that would give an annual run rate of 634,300 cars. It is understood that Tesla has filed with the Chinese Authorities to expand the Shanghai factory. It is not known exactly what such an expansion would entail.
Recent observations suggest that that a Model 3 is coming out of the Shanghai plant every 44.3 seconds. The facility is aiming for a similar run-rate for the Model Y. Tesla has no doubt exceeded its original target for the year of an output of 500,000 vehicles.
The surge in order expansion sees no evidence of changing. Recent estimates reckon that Shanghai currently has an order backlog of almost 3 months' production. This includes RHD Model Y models. Some of these are set to arrive in the U.K. for launch there in February. Shanghai will have to supply this demand as well as it can until the new plant in Germany is up and running.
It is relevant that in December the company announced a new $422 million logistics deal with Hyundai Glovis to cover the export of vehicles from Shanghai. Tesla will hope this can focus on exports to Asia.
The political issues will remain. In October, for instance, there was a problem with the Authorities wanting to clamp down on the data that EVs can collect. Tesla uses driver data for improving its self-driving algorithms. It quickly set up its own date centre in China where all such data would be restricted to being within China.
It has been speculated there could be some problems for Tesla if they became too successful in the country. Their sales far exceed local market darlings such as NIO (NASDAQ:NIO) and XPeng Inc (NASDAQ:XPEV) but are somewhat on a par with China's best local manufacturer BYD Auto (OTCPK:BYDDF)(OTCPK:BYDDY). Tesla were encouraged to enter China at a time when there were a lot of low quality EV manufacturers. The company was seen as a way to upgrade the market. I detailed this in an article back in July. So domestic success is unlikely to be a problem. If it were, the company can just ramp up exports.
China does have strong environmental targets. The government encouraged Tesla to lead the EV drive in the country with favourable loans for its Shanghai facility. Chinese media reportedthat Tesla reduced carbon emissions in the country by 855,878 tons in the first 11 months of the year. It can thus be seen that Tesla helps China to meet its targets.
Other developments from the government are favourable to Tesla. For instance, as of 1st January this year, China is allowing full foreign ownership of passenger car manufacturing by foreign companies in the country. About 30% of cars manufactured worldwide are manufactured in China and this measure is likely to increase that proportion. In fact, the measure stands in stark contrast to the recent National Defense Authorization Act passed in the USA which I wrote about recently. This has effectively cut out most of the e-bus business of BYD Auto in the USA. This is despite the fact its e-buses are almost wholly manufactured in California. Companies such as Tesla have to hope that the Chinese government does not act against them in China in retaliation for what could be interpreted as protectionist measures from the USA.
Tesla's capital investments in China continue apace. They now have over 8,000 superchargers in the country and 7,000 charging stations with over 1,800 destination chargers. Recently, 6 new supercharger stations were brought online in Beijing in the course of a single day. The superchargers are now being manufactured in a new factory in Beijing that Tesla recently opened.
They opened their first Tesla store in the remote western province of Xinjiang at the end of the year. This is the 211th store in the country. However, that has already been criticised by human rights groups. It is well reported the problems Intel (NYSE:INTC) recently had with problems in Xinjiang. In fact, Ford (NYSE:F) and GM (NYSE:GM) already have dealerships in the region and Volkswagen (OTCPK:VWAGY) has an auto factory there.
The links with China do not relate just to Tesla's facilities. The world's largest battery manufacturer, CATL, has been a major supplier to Tesla. They have a long-term supply agreement together. Tesla is reported to have signed a major contract recently with BYD Auto. It is thought to be for 10 GWh of the company's "Blade" LFP battery. Depending upon model breakdown, that would represent about 170,000 vehicles. China dominates the world's battery industry. This includes over 70% of the world's lithium-ion battery production capacity. It is another way in which China is leading the charge to be the world's premier EV manufacturing hub.
In contrast to Tesla's healthy battery position, there have been numerous reports that Ford is having to hold back on order confirmations for its new F-150 e-truck due to battery shortages in the USA. This may extend to Europe as well. For instance, as detailed here, vehicle production in general has fallen for four consecutive years in Germany. This appears to be a long-term decline in Germany's fabled auto industry and one more indication of a switch to Chinese auto production for industry as a whole, not just for Tesla.
Chinese Auto Sales
The Chinese government has a target to phase out ICE vehicles by 2035. It wants to see sales of 7 million EVs per annum by 2025. At the same time, it is reducing subsidies for EVs to the consumer. It seems confident that the pure economics of EVs versus ICE cars will swing further in the balance.
Tesla will hope it will not have to allocate its distribution of production in Shanghai between China, Europe and Asia much longer. Once German production is finally up and running, Shanghai can focus more on Asia. Even with these restrictions, the Model Y was still the best-selling EV and the best-selling premium SUV in China in November, with 23,117 units. The country is by far the world's largest EV market.
In Q3 this year, sales in China were $3.11 billion. This represented 22.6% of overall world sales. That was 48.5% of the value of U.S. sales. This compares to 41.1% in Q3 2019 and 10% in Q3 2018. The volume figure would represent a higher figure as unit sales average cost is a lot lower in China than in the USA.
The latest figures I have seen, for the first 11 months of the year, tell the story as illustrated below: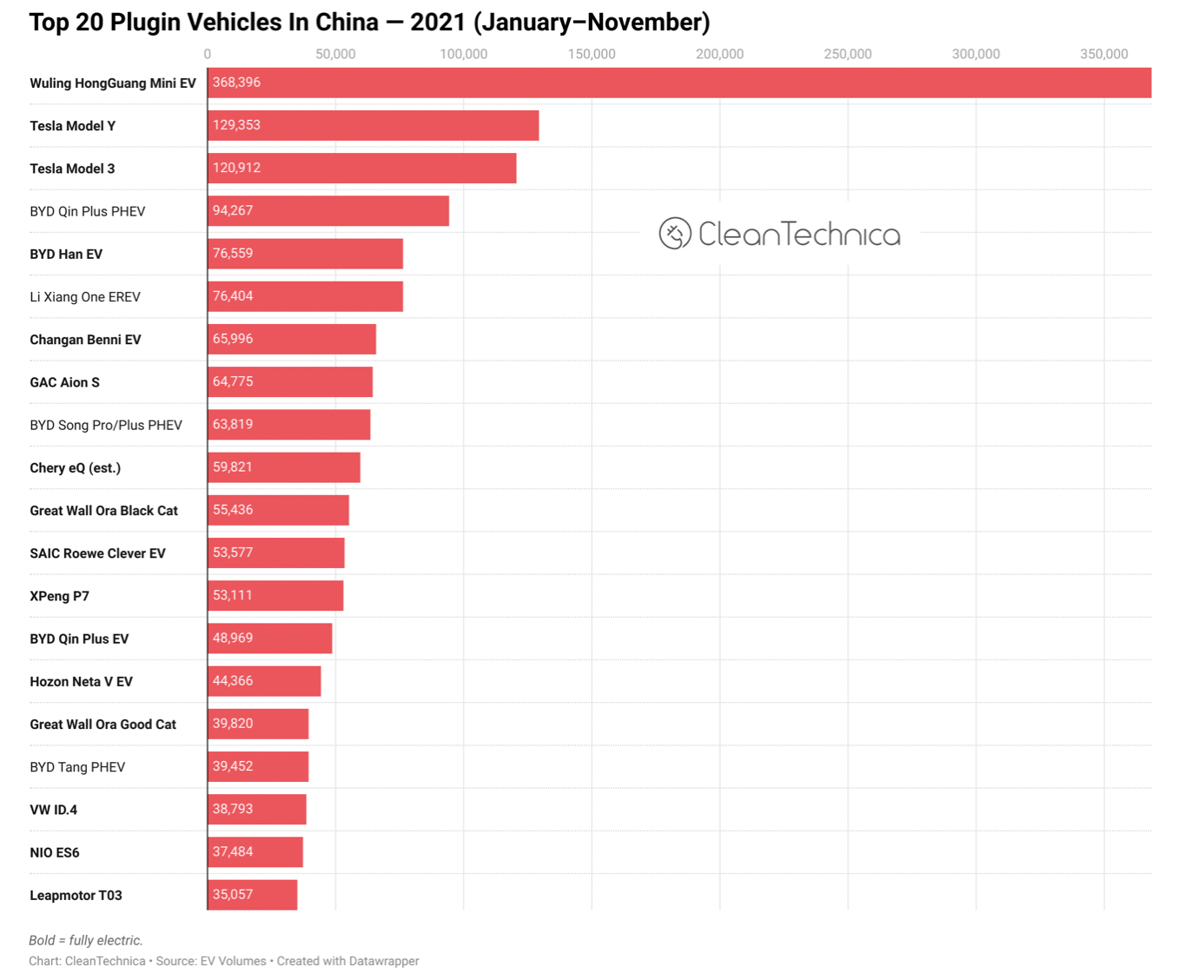 Source: CleanTechnica
It should be noted that the Wuling product is very low-cost and not in the same product bracket. The strength of the Model Y and the Model 3, despite supply shortages, proves that the Tesla skeptics claims that demand for Tesla has collapsed in China. It also clearly illustrates the strength of Chinese manufacturers in the country and the weakness of traditional ICE manufacturers such as Volkswagen.
Asian Auto Markets
As these figures (subscription required) evidence, it is not just that China has replaced the USA as the country with the largest auto market. Asia has replaced North America and Europe as the world's largest market on a continental scale. Indeed, new car sales in just the three countries of China, Japan and India equalled the combined numbers for the USA and Europe.
The exact numbers are computed slightly differently by different organizations, but the conclusion is the same. The chart for new cars sold in 2020 below shows:
Source: Statista
Apart from these very large markets, countries all around Asia have rapid car population growth. New car sales figures include South Korea (1.9 million vehicles), Australia (676,000 vehicles), Malaysia (480,000 vehicles), Indonesia (380,000 vehicles), Thailand (343,000 vehicles) and Vietnam (215,000 vehicles). Because of Covid, sales everywhere declined in 2020, with the exception of South Korea. Other smaller but affluent markets in Asia such as Singapore and Hong Kong are proving to be fertile ground for Tesla.
Another detailed list here shows the individual sizes of markets and how Asian markets are increasing in size. This is as Asian economies continue to grow more rapidly and have younger populations with an ambition to own vehicles.
Apart from China, there is currently a relatively small market share of EVs in these countries. This is illustrated below: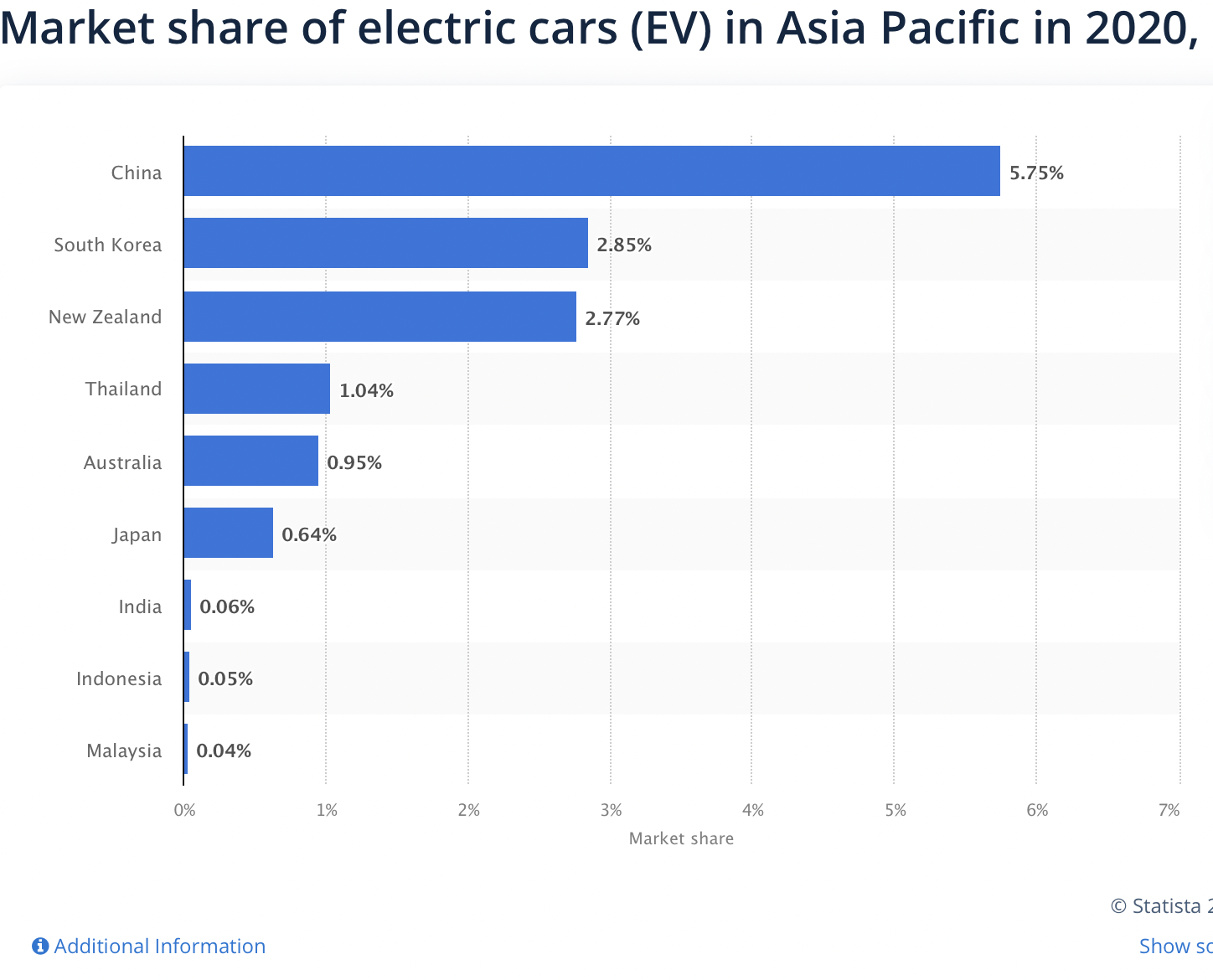 Source: Statista
South Korea, Australia, New Zealand and Singapore all illustrate how this picture is rapidly changing. The EV change is being led by Tesla. Elon Musk recently compared auto exports out of China to the surge in Japanese auto exports in the 1980s. He seems confident that Tesla's Chinese vehicles will lead this charge.
Individual countries in Asia
Singapore
My article in March predicted that Tesla would sell strongly in Singapore once Shanghai was able to release some supply. So it proved, in what is the world's most expensive auto market. In September, Tesla became the best-selling sedan in the country and the sixth most popular auto brand. It has become the fashionable car to buy. A poll by the country's main newspaper had the Model 3 well ahead as readers' "Car of the Year" (followed by the MG ZS).
This is despite the fact that there was a very limited range of just certain Model 3 types from Shanghai. Currently, the lead time for customers can be as long as 12 weeks, depending on specifications. The Singapore government is setting up 60,000 charging points by 2030 and only EVs will be allowed by 2040. Singapore could become the Norway of Asia, a small affluent country where Tesla became the leading auto brand in 2021.
South Korea
My article in March detailed the very rapid progress Tesla has made in the country. This is despite the domestic manufacturing industry making excellent EVs itself.
In 2020, Tesla Korea's revenue had grown 295% over 2019 and its operating profit was up 429%. In the first half of this year, Tesla's 11,629 units represented 43% of all EVs sold and 81% of imported EVs. The Model 3 and Model Y were the first and second best-selling, respectively. The locally manufactured Hyundai "Ioniq 5" was third. It was earlier reported that the Model 3 Long Range was unavailable and on long lead-times such as 6-8 months because of supply shortage. This has been a typical experience for Tesla customers in Asia in 2021.
In the first 9 months of the year, EV sales in South Korea comprised 5.5% of total auto sales. This can be compared to 2.3% in the USA. This makes South Korea currently the world's 7th largest EV market.
Australia
EVs have been slow to take off in the country. This is now changing. 2021 has seen more EV sales than the whole decade of 2010 to 2020. Despite limited supply of the Model 3 from China (and no supply of the Model Y), about 75% of BEV sales are Teslas. In 2021, they will have sold more cars than they have done cumulatively in the past. The total number will still be only slightly in excess of 10,000 vehicles this year. As of late November, the company was quoting 8 to 12 weeks lead-time for most Model 3 configurations. Hopefully, this will improve in 2022 once Shanghai is able to apportion more of its product line to Australia.
There are 18.1 million vehicles on the road. Tesla's rapid sales growth seems certain to increase. Its brand in the country is already very strong through its very successful energy storage projects there.
Energy storage is in fact another very strong Asia focus for Tesla, separate from the auto sector of the company. My article in February detailed the opportunities in Asia. China is the world's biggest energy storage market. The other giant economies of the region, India and Japan, also need energy storage and power sourced from renewables due to their lack of fossil fuels. Tesla's successful residential energy storage product, "Powerwall", is not even available in Asian markets yet. That is a growth product for the future in the continent.
New Zealand
This is another example of a small affluent country where Tesla can naturally thrive. The government has a target for 50% of the cars on the road to be EVs by 2035. Despite limited supply, the Model 3 is by far the most popular BEV model in the country. In September, 21% of new sales were EVs, and BEVs out-numbered hybrids for the first time.
In the whole of 2020, Tesla sold 593 cars in the country. In the first 11 months of 2021, they have sold 2,664 cars. The Model 3 is by far the best-selling EV, followed by the MG ZS EV with 824 cars sold. Lead times remain quite long, averaging 12 weeks for the standard Model 3. The Model Y is not available in the country yet.
Japan
The world's fourth largest car market has a target to have all electric sales by 2030. The government has recently introduced new tax incentives to drive the change. This target is, in my view, unlikely to be attained. Additionally, the country has been pursuing the hydrogen fuel cell concept over BEVs. Its major manufacturers do now seem to be pulling back from this though. That can be seen by the somewhat late drive by Toyota (NYSE:TM) to get into the BEV market. This includes a joint venture with BYD Auto in China. In South Korea, Tesla has succeeded against fierce local competition in BEVs from the likes of Hyundai (OTCPK:HYMLF). In Japan, it does not have this obstacle, although no doubt it will come in time.
Tesla is the top-selling imported EV in Japan, but it is thought its sales continue to disappoint. My article in May detailed some of the challenges in the country. The company has this year reduced its selling prices. Supply from Shanghai rather than Fremont probably allowed them to do this. They expanded the Supercharger network and have opened their first delivery centre in the country. The exact impact on sales of these measures is unknown.
Most notable is the problem of the size of the vehicle. In a country with very small parking spaces, size really does matter. Substantial revenue figures from Japan may have to wait for the release of Tesla's rumoured smaller Model X car being developed in Shanghai. That car would of course have a strong impact on the importance of the Shanghai plant to Tesla in general. It is not yet confirmed though.
India
Tesla set up its Tesla Motors India and Energy Pvt. Ltd. company in Bengaluru this year. Despite excitement in some circles, I see this as very much a long-term project for Tesla in the world's 5th largest car market. Musk has stated he wants to manufacture there at some point. He has stated also that large-scale imports into India are not worthwhile while the country maintains its high import duty policy. Late in the year, Tesla received approval (so-called homologation) for seven model variants to be driven on the country's roads. Government regulations and power constraints may mean this does not happen on a large scale for some time.
Hong Kong
In July, Hong Kong became the first overseas market for Model Y with RH drive from Shanghai (if one can call Hong Kong an "overseas market"). There are a lot of RH drive countries around Asia and this is an important positive signal for Asian sales this year.
Pictured here is the recent shipment being unloaded in Hong Kong: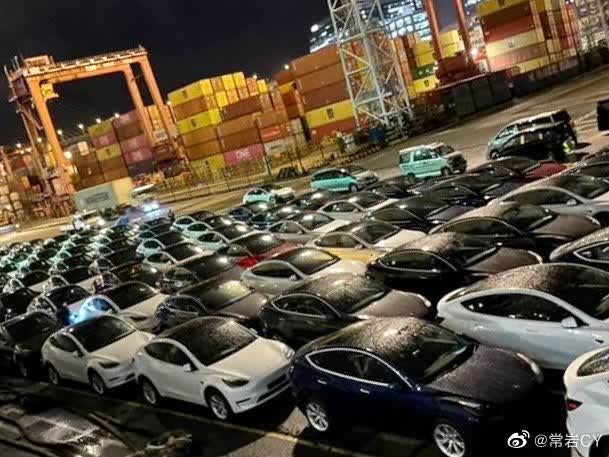 Source: Twitter (Ray4Tesla)
As of the end of 2020, 80% of EVs on the road in Hong Kong were Teslas.
Taiwan
Tesla has a cult following in Taiwan and dominates the EV market. For instance, figures published for the month of November show that that Model 3 was the best-seller with 1,238 cars. This was followed by the Porsche Taycan with 73 cars! This is despite the fact that for political reasons shipments to Taiwan have to come from the USA rather than China. Tesla has 40 supercharger locations around the country and more than 230 supercharger stalls, in preparation for further growth.
———-
Because the brand awareness for Tesla is so strong, consumers in these countries around Asia seem not to have minded the often long lead-times and limited availability of models. This is the company's form of "blitzscaling" in which it sets almost impossible targets for itself. Expectations often cannot be met but excited consumers are happy when finally they are met.
My article in May comparing the markets of South Korea and Singapore detailed how Tesla seems to appeal to consumers in very different markets. There seems no reason to doubt this will extend throughout Asia as the company ramps up its export offerings from Shanghai.
Conclusion
As Shanghai gets to increase its shipments of cars to Asia in 2022, sales are set to boom ever more quickly in all these Asian secular growth markets. Demand will increase hugely as these countries put mandates in place for the switch from ICE to EV.
In 2021 as a whole, Tesla had sales worldwide of 936,000 units. This compares to 499,500 in 2020. A recent analyst report from Wedbush predicted sales of 1.4 million to 1.5 million in 2022. They reckoned China would represent 40% of worldwide deliveries as Chinese demand surged. This sounds about right to me. Analyst estimates in fact average out to 1.2 million to 1.3 million vehicles in 2022.
Once the Model Y gets added fully to the mix, sales should boom even more. All around the world, the Model Y is overtaking the Model 3 in demand as production ramps up. With the plants in Texas and Germany coming on-stream, Shanghai can focus on China and its natural hinterland of Asia. This should result in faster sales growth than other parts of the world. How fast Asian sales increase this year will though partly depend upon when Brandenburg can set up meaningful production for the European market.
Running operations in China will always be open to some political risk. However, as long as Tesla continues to ramp up investments in China and employ more people, the risks are quite slight.
Asia's growth economies and young populations are fertile ground for the Tesla brand. Tesla will not become an "Asian company" but increasingly a world company with Asia as its highest revenue sector. Shanghai is likely to be increasingly the largest manufacturing facility for Tesla and Asia to become its largest revenue earner.
Disclosure: I/we have a beneficial long position in the shares of TSLA AAPL BYDDF either through stock ownership, options, or other derivatives. I wrote this article myself, and it expresses my own opinions. I am not receiving compensation for it (other than from Seeking Alpha). I have no business relationship with any company whose stock is mentioned in this article.