Tesla restarts Model 3
Tesla restarts Model 3
Tesla is now offering the Model 3 Long Range All-Wheel-Drive for $42,420 on its website. The vehicle was taken off of Tesla's website last year after CEO Elon Musk said the waitlist for the vehicle was too long.
Tesla is offering the new configuration in addition to the Model 3 Rear-Wheel Drive and Model 3 Performance. Previously, the vehicle was dimmed out on the Design Studio, with the message, "Available in 2023."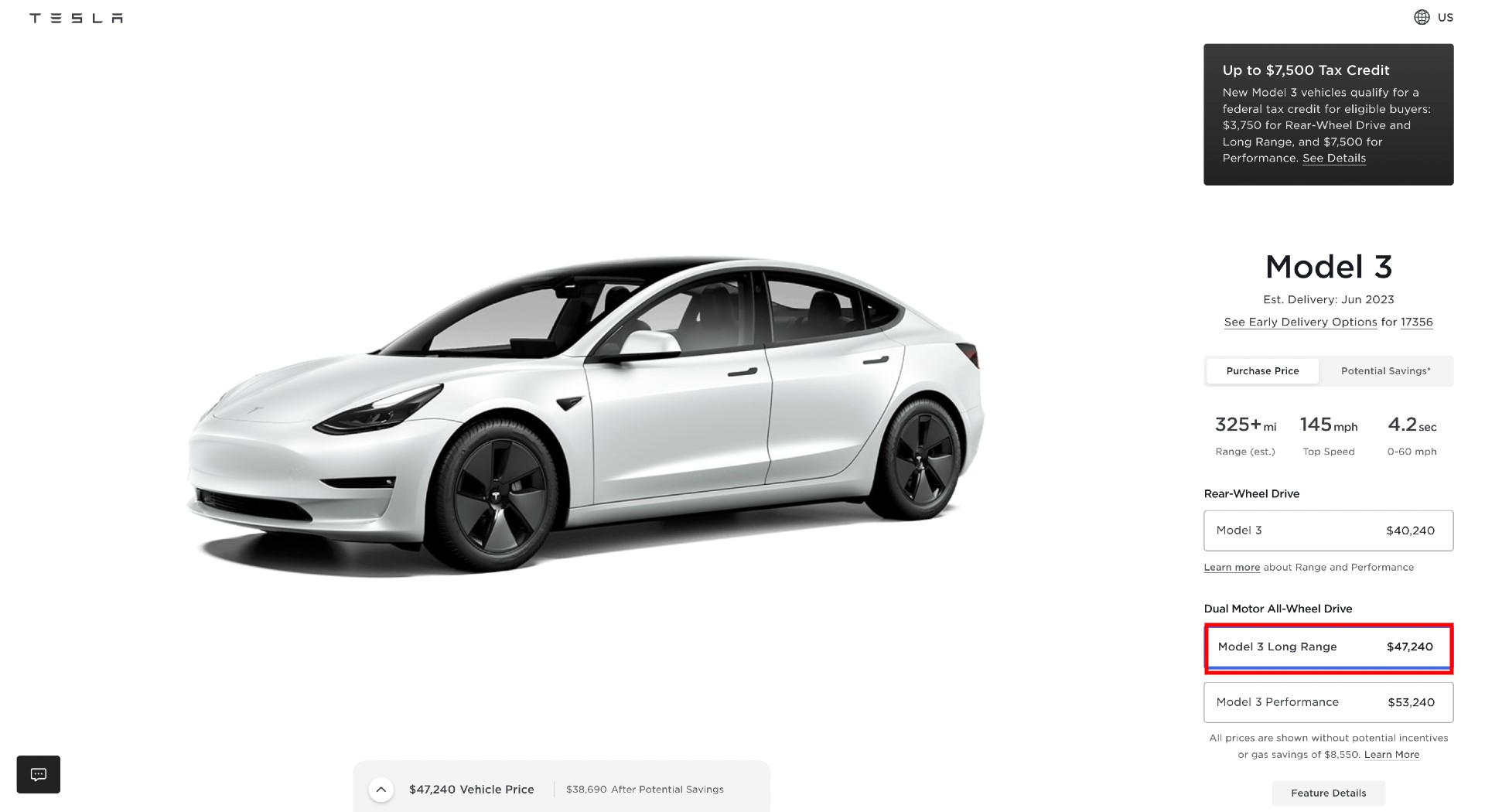 The new Model 3 configuration has been unavailable since August 2022, when the automaker first dimmed the option and noted it wouldn't be available again until 2023.
Delivery is slated for June 2023, according to Tesla. The vehicle will offer 325+ miles of range, according to Tesla. Additionally, it has a top speed of 145 MPH and a 0-60 MPH acceleration rate of 4.2 seconds.
Tesla indicates the vehicle also qualifies for $3,750 of the possible $7,500 EFV tax credit.
Tesla stopped taking orders for the vehicle after CEO Elon Musk said "the waitlist is too long," and the automaker would offer the vehicle when production was ramped once again.
why no model 3 long range orders anymore

— Whole Mars Catalog (@WholeMarsBlog) August 13, 2022
The Model 3 is built at the Fremont Factory in Northern California, and Tesla has been dealing with space constraints at the plant for years. The Model 3 is the second-most popular vehicle in the Tesla lineup, following the Model Y, an all-electric crossover.
We have frequently kept up with Fremont's progress, and have reported on filings the automaker has filed as it continues to refine the plant. Tesla is attempting to expand production with ramp-ups of its factories in Berlin and Texas, but Fremont is still a major contributor to the company's delivery figures.
The Model 3 Long Range offers not only an AWD powertrain, but also superior range ratings to those who do not desire the acceleration and speed of the Performance configuration. It is an ideal choice for many drivers as Tesla continues to expand its Supercharging network, which is the most robust in the world.