Tesla Adds Model 4680 Y
Tesla Adds Model 4680 Y
It took some time, but it appears that Tesla is finally at a point where its 4680 battery cell production is at a level where it can support the orders and production of a Model Y variant. This was hinted at recently by Tesla when the company added the Model Y Dual Motor AWD to its design studio in the United States.
As could be seen in the Model Y AWD's configurator, the vehicle is priced at $49,990 before incentives. For that price, customers could expect 279 miles of range per charge, a top speed of 135 mph, and a 0-60 mph time of 5.0 seconds. At its current price, the Model Y AWD qualifies for the federal tax credit provided that buyers are eligible for the program's benefits.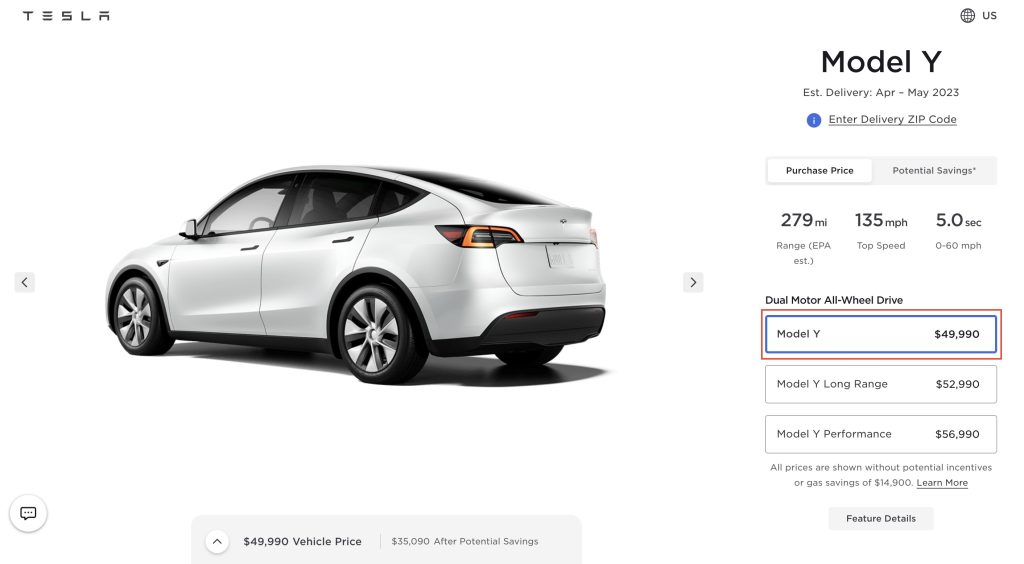 Tesla's 4680 cells are a critical part of the company's strategy to improve battery efficiency and reduce its vehicles' production costs. First unveiled at Tesla's Battery Day in September 2020, the 4680 cells have more energy and are cheaper to produce. During Battery Day, executives such as CEO Elon Musk noted that Tesla's 4680 cells could very well become a difference-maker in the company's long-term goals.
The addition of the Model Y AWD to the design studio, even if it seems to be exclusive to the United States for now, bodes well for the company's ramp of its 4680 cells. Tesla initially launched Model Y units with 4680 cells last year, but the vehicle was only available in limited quantities. It was initially sold to Tesla employees, though this was later expanded to Model Y Long Range reservation holders. It was made available as inventory vehicles later on.
Tesla has officially added the 4680 Model Y to the US design studio for the first time! A good sign for Tesla's confidence in 4680 production moving forward. $TSLA pic.twitter.com/i13SCQiMFY

— Rob Maurer (@TeslaPodcast) April 7, 2023
While Tesla never really explained why its 4680 Model Y was not being added to the all-electric crossover's design studio, speculations among the EV maker's followers suggested that it was likely due to the challenges involved with the ramp of the 4680 cells at Gigafactory Texas and the pilot line at Kato Road, close to the Fremont Factory. For now, the Model Y AWD with apparent 4 680 cells is available for $49,990 before incentives. This price is, interestingly enough, $2,000 less than its previous cost of $51,990 before incentives.