Elon Musk's social media gambit seems to be working
Elon Musk's social media gambit seems to be working
Tesla's 2022 Impact Report provided a comprehensive overview of the electric vehicle maker's operations and its milestones in the past year. Among other things, the report highlighted the company's performance on social media platforms such as Twitter.
Unlike traditional automakers, Tesla does not engage in advertising. The company participates in marketing, particularly online, but has yet to delve into traditional advertisements. Despite its size and prominence today, the company's marketing efforts have primarily taken the form of social media campaigns and CEO Elon Musk's Twitter presence.
Part of Tesla's reluctance to embrace conventional advertisements is CEO Elon Musk, who noted in the past that the electric vehicle maker will not engage in conventional advertisements. Last year, however, Musk admitted that there may be some value in ads.
"There's an argument for maybe we should advertise because the traditional media will not run negative pieces about automotive. Because automotive is like one of the biggest—if not the biggest—advertisers in their paper," Musk said then.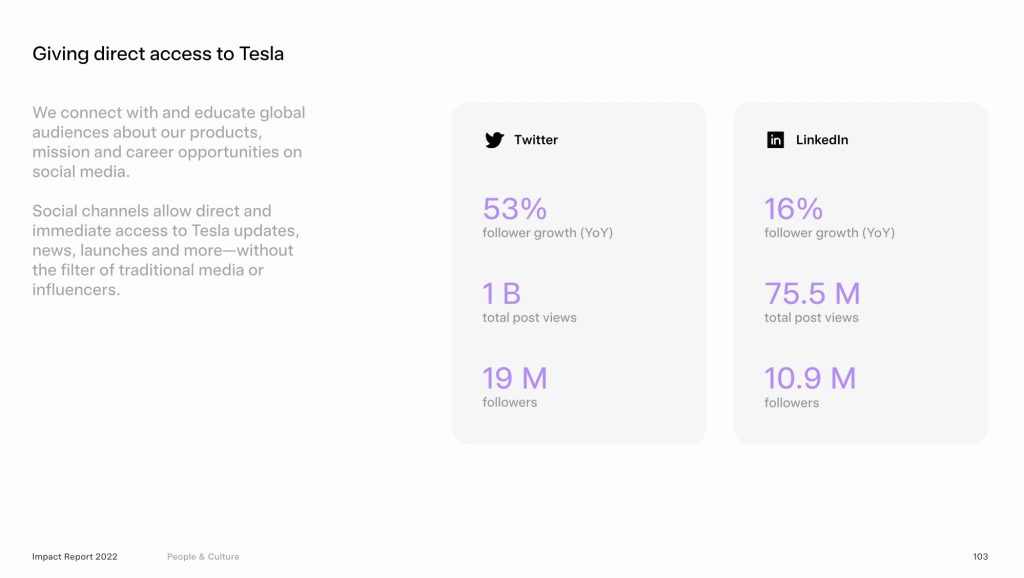 As noted by Tesla in its 2022 Impact Report, the company's social media presence has allowed it to reach an impressive number of people. In the past year alone, Tesla's Twitter account saw a 53% spike in follower growth, and the company achieved 1 billion views on its posts on the social media platform. Its follower count also reached 19 million.
Over at LinkedIn, the story is much the same. Despite the platform's users generally belonging to a different demographic than Twitter's users, Tesla's presence on the platform was impressive in 2022, with a 16% rise in follower growth and 75.5 million post views. Tesla's followers on LinkedIn are no joke either, totaling 10.9 million.
As noted by the electric vehicle maker in its 2022 Impact Report, focusing on social media efforts allows Tesla to connect with and inform people worldwide about its products. It also provides quick and accurate updates about the company and its current activities.
"We connect with and educate global audiences about our products, mission, and career opportunities on social media. Social channels allow direct and immediate access to Tesla updates, news, launches, and more—without the filter of traditional media or influencers," Tesla wrote in its 2022 Impact Report.
Tesla's prominence on social media is not limited to Twitter and LinkedIn. The company is also quite popular on YouTube and Instagram. Tesla's videos on YouTube have been received very positively by members of the EV community, partly due to their high quality and informative nature. Overall, Tesla's social media metrics will likely see a notable rise this year, particularly as the company doubles down on its efforts on Twitter following CEO Elon Musk's acquisition of the platform.