Apple might release three new Mac chips in 2023, all variants of the M2 chip that's expected to come to new MacBook laptops and Mac desktops in 2022.
The Mac computer might get more frequent processor updates in 2023 if leaks that Apple is picking up the pace of its M-series development prove to be true. The MacBook laptops and Mac desktop computers have nearly completed the transition to Apple Silicon, with only a few models remaining to be updated. So if the replacement of Intel is achieved in 2022, all effort can be directed at Apple's Mac chips.
Apple Silicon was first announced at the Worldwide Developers Conference in June of 2020 with the stated plan to fully replace Apple's reliance upon Intel within two years. By the end of 2020, the first M1-powered Mac computers hit the market, starting with the entry-level Mac mini, 13-inch MacBook Pro, and MacBook Air. After that, speculation began about an M1X or M2 processor arriving early in 2021. However, the M1 continued to be Apple's best, appearing in the 24-inch iMac and 2021 iPad Pro. This fall, an update arrived with an upgraded M1 Pro and M1 Max, with increased chip cores and greater memory capacity.
That means the M1 chip in three variations lasted through two full years, pushing further and bringing the challenge to Intel's best laptop CPUs as well as Nvidia's top laptop graphics. Based on a recent report from the Chinese-language news website Taiwan Commercial Times, citing supply chain sources, Apple will launch its second-generation M2 chip for Mac computers and MacBook laptops in 2022 as expected, then follow with three variations in 2023. This faster pace of innovation will make sense if Apple achieves its goal of completing the transition from Intel in 2022, giving complete attention to Apple Silicon going forward. MacRumors first spotted this story.
Apple's Mac Chip Roadmap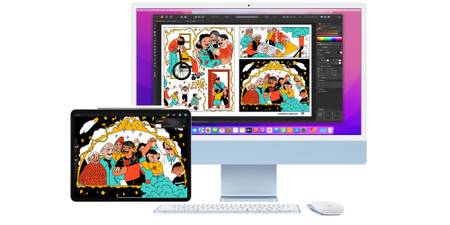 While Apple hasn't confirmed its roadmap for chip production, an M2 chip in 2022 is nearly guaranteed. It's a logical assumption that Apple might repeat the pattern of the first two years of Apple Silicon, so the report of an M2X chip comingin 2023, followed by an M2 Pro and M2 Max later in the year, makes sense. However, something a bit unusual is the claim that Apple will use a 4-nanometer process for all four chips. TSMC is expected to begin manufacturing its 3-nanometer node by the end of 2022, and Apple usually chooses the latest chip process for its new chips.
Looking on to 2024, Taiwan Commercial Timesclaims that Apple will shift to an 18-month chip cycle instead of significant updates every two years, and the M4 would use TSMC's 3-nanometer process. Apple is currently setting a feverish pace with chip updates and seems to be aiming to accelerate its innovation even further in the future. The 2021 MacBook Pro computers are very impressive, and 2022 should bring some incredible performance if Apple Silicon can surpass the 28-core Intel Xeon W CPU in the Mac Pro.