Tesla China starts customer deliveries of upgraded Model 3 Highland
Tesla China starts customer deliveries of upgraded Model 3 Highland
The drought of domestic Tesla Model 3 deliveries in China is over. As per a recent announcement from the electric vehicle maker on Chinese social media, customer deliveries of the upgraded Tesla Model 3, better known in EV circles as Project Highland, have begun.
Tesla China's announcement on Weibo highlighted some of the new Model 3's improvements, from its integrated taillights and new "light wing headlights" in the exterior to the RGB ambient lighting and ventilated seats in the interior. Tesla China also highlighted that the updated Model 3 features a new suspension system that should make the vehicle more comfortable.
The upgraded Model 3 was unveiled in China on September 1. At the time, the vehicle was offered for pre-sales in the country, and it was only until October 19 that formal sales of the new Model 3 were started in China. Despite the vehicle being formally available for ordering, however, the revamped all-electric sedan's local customer deliveries were still paused. That pause ended today with Tesla's announcement on Weibo.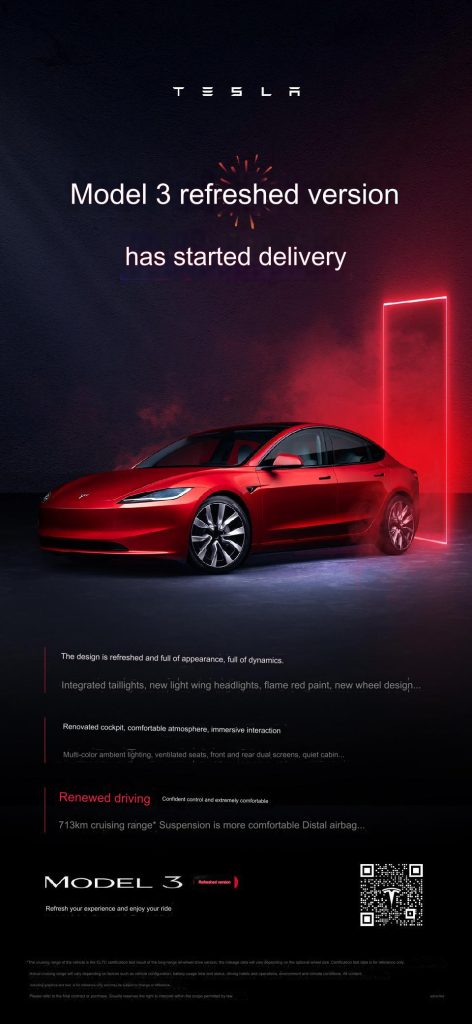 Tesla China currently offers two variants of the upgraded Model 3 — the base Rear Wheel Drive (RWD) variant that starts at RMB 259,900 (about $35,500) and the Dual Motor All Wheel Drive (AWD) variant that starts at RMB 295,900 (about $40,400). Prior to the Highland update, the Model 3 in China started at RMB 231,900 (about $31,700) for the RWD version. A Performance variant was also offered at RMB 331,900 (about $45,300).
A document released by the China Ministry of Industry and Information Technology revealed some details about the revamped all-electric sedan. These include the new Model 3's battery pack sizes, which were listed at 60 kWh for the RWD variant and 78.4 kWh for the Dual Motor AWD. Tesla China's order page for the upgraded Model 3 also lists an estimated delivery date of 6-9 weeks for new orders of the vehicle.
For now, the upgraded Tesla Model 3 is exclusively produced at Gigafactory Shanghai, the company's largest factory by output and primary vehicle export hub. In Tesla's Q3 2023 Update Letter, Giga Shanghai was listed with an estimated annual capacity of over 950,000 vehicles. That's quite a lot of Model 3 sedans that could be produced both for the domestic Chinese market and foreign territories.