Tesla: Morgan Stanley Turns A Blind Eye To Risks
Tesla: Morgan Stanley Turns A Blind Eye To Risks

Thesis Summary
Tesla, Inc. (NASDAQ:TSLA) has enjoyed a strong rally following Morgan Stanley's (MS) analysis of its Dojo supercomputer. The bank estimates this could add $600 billion to Tesla's market cap, as it's raised its price target to $400.
While I agree with Morgan's assessment of the importance of the Dojo supercomputer and its implications for revenues, I also believe there are risks to the company that may not be priced in here.
MS does a decent job at estimating the revenue from Tesla's full self-drive, or FSD, which I already did months ago, but the bank completely overlooks the much more pressing risk of China. Not only is the economy slowing down there, but the country is actively trying to reduce its dependence on foreign technology.
In my last article, following Tesla's Q2 earnings, I pointed out that the stock price could have topped despite my bullish outlook on FSD and the cybertruck. Indeed, the stock fell over 10% since then, and though it has rebounded significantly, I still think more downside could be due in the more immediate term.
I maintain a neutral rating on Tesla, as I, too, am very bullish on its outlook, but must weigh this against the huge risk posed by China.
Morgan Stanley Gets Really Bullish
Analysts at MS raised their PT for Tesla to $400/share, claiming that the development of the DoJo supercomputer could contribute hundreds of billions to its market cap.
Tesla's DoJo supercomputer has been in the works for the last five years, but has only really started to pick up steam in the last two.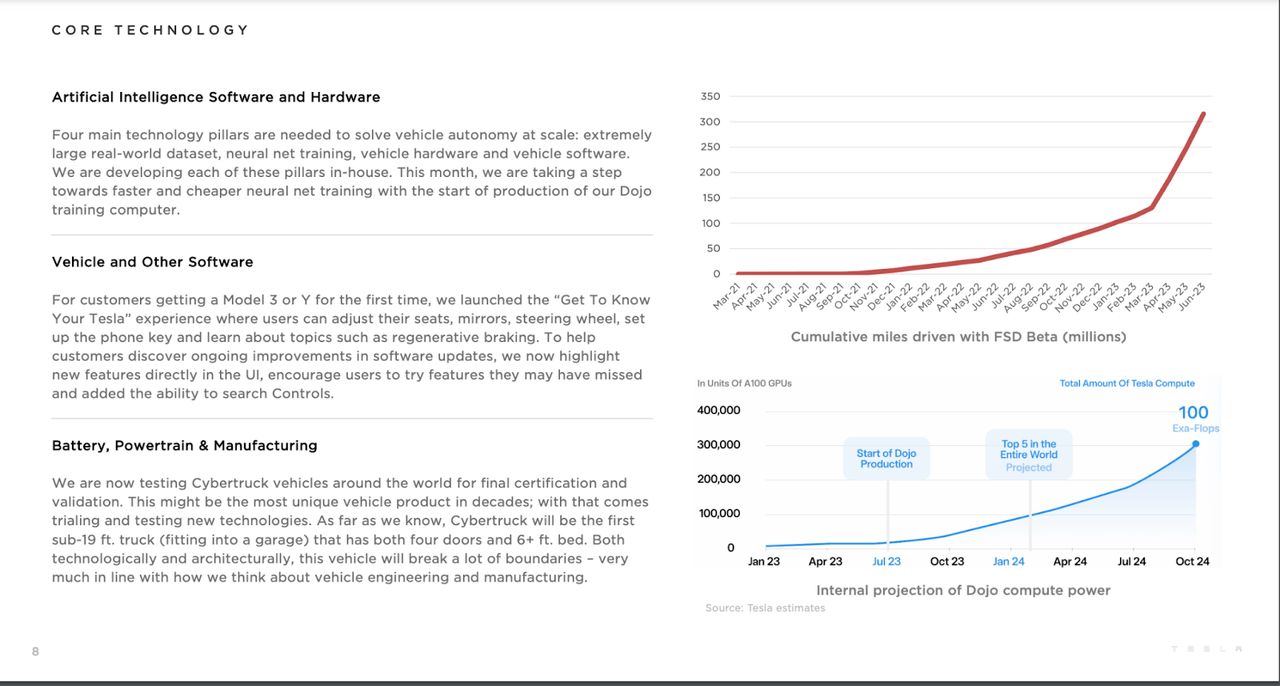 As we can see in the chart above, Tesla's Dojo has picked up steam, which is reflected by the millions of miles driven by the FSD Beta.
We can also see how Dojo is projected to reach 100 exaflops of power by 2024. Indeed, the creation of Dojo has arguably changed the whole nature of Tesla's business: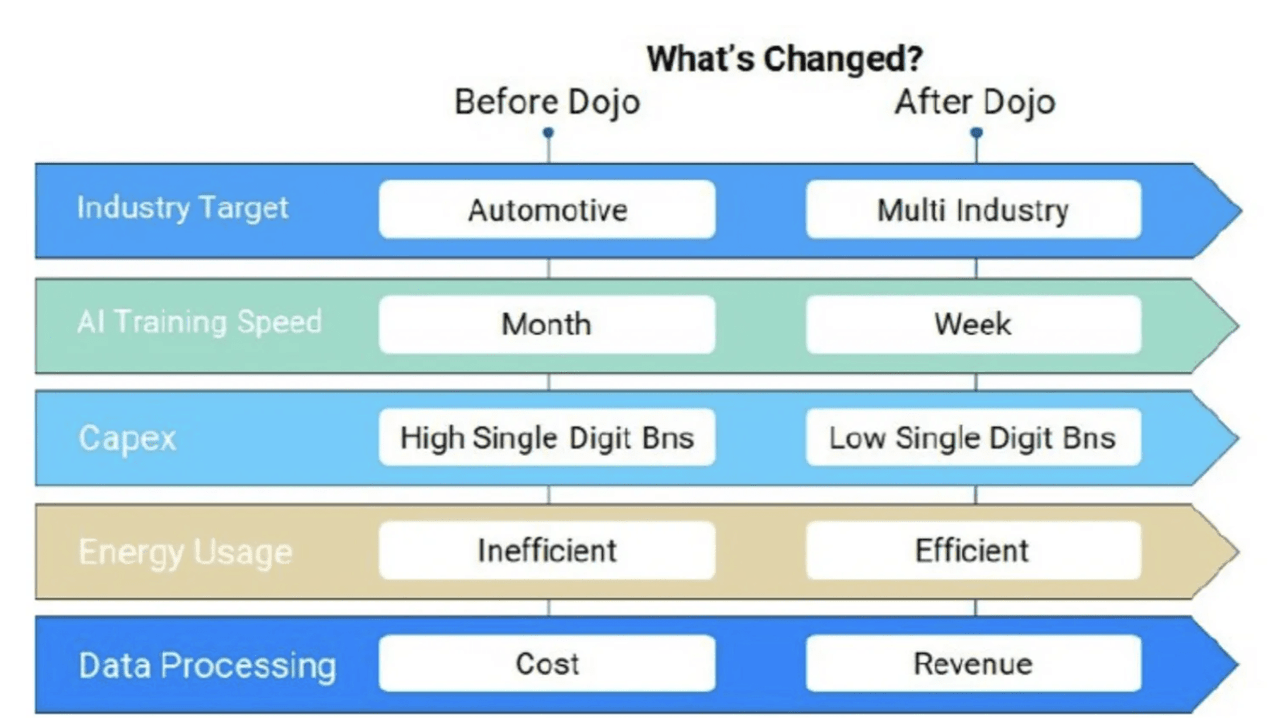 Dojo brings Tesla a step closer towards becoming a tech company. According to MS, Dojo could also serve to reduce the cost of Capex, make energy more efficient, and, of course, monetize its data.
Dojo's impact on the business has even been compared to that of AWS for Amazon.com (AMZN)
But how much is Dojo really worth?
According to MS's new forecast, Tesla will benefit from an increase in Network Services and Mobility.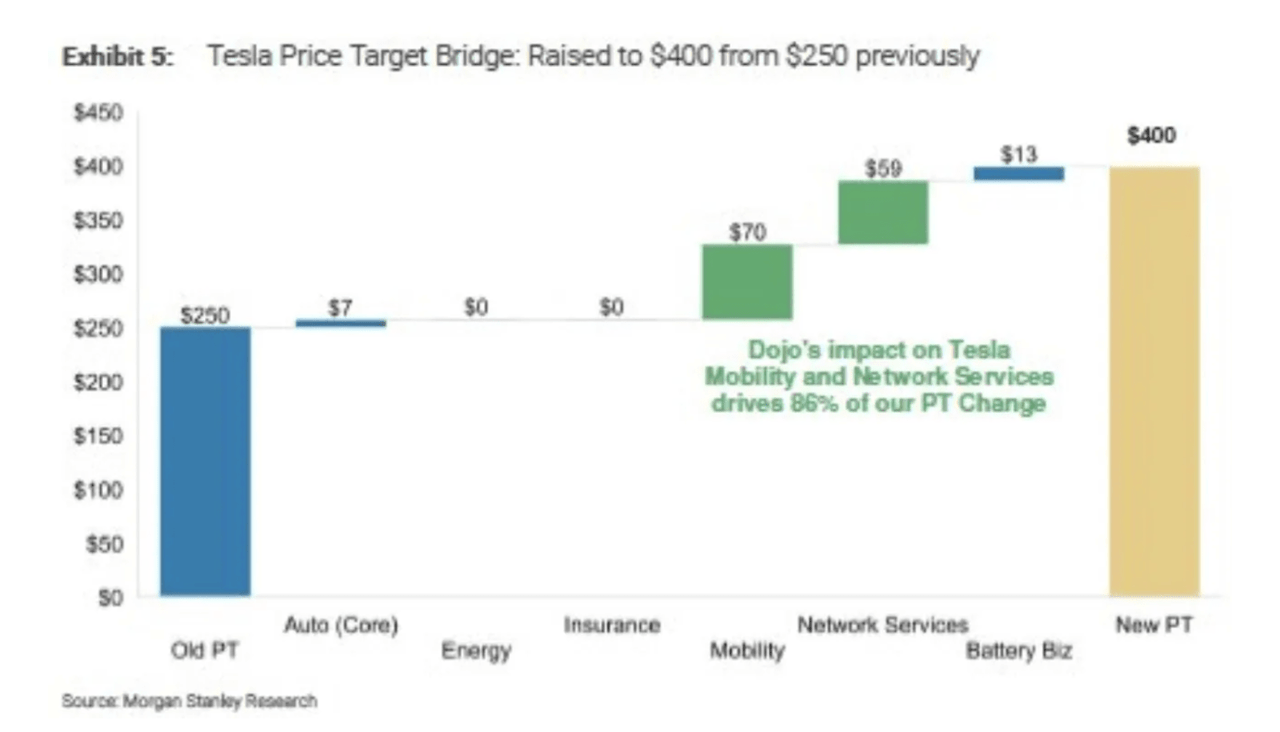 Specifically, Mobility, which refers to the potential for robotaxis, could add $70/share, and Network services, which would be monetized through a SaaS offering, are estimated to contribute $59/share.
Combined, that's an added market cap of almost $450 billion.
Morgan Stanley raised its revenue estimate for Tesla's network services business to $335 billion in 2040 from $157 billion earlier.
A valuation until 2040 is very speculative, of course, but it can give us a good idea of where things are heading.
In fact, I made my own calculations on how much Tesla could make from robotaxis back in April, reaching an estimate of $229 billion by 2030, so $335 by 2040 doesn't seem far-fetched to me.
Risks, anyone?
My main issue with the very bullish target that MS has presented here isn't the forecast for Tesla's revenue. I think the estimates are in the right ballpark, though MS is a bit late to the game if you ask me.
No, my main issue here is that GS is turning a blind eye to the much more relevant risks Tesla faces today, and that is, of course, China.
In 2022, China accounted for $18.5 billion of revenues for Tesla. That's around 22.27% of total revenues. China was also one of the fastest-growing segments, with a 31.07% increase from the year prior.
Tesla is, of course, deeply entrenched in the Chinese economy, with significant production coming from Shanghai. But there are, in my opinion, at least two big risk factors.
Firstly, it is evident to everyone by now that China's economy is slowing down. A recent report pointed out that China may not even be able to surpass the size of the U.S. economy by 2040, as many expected. In the immediate term, China is dealing with a bloated housing market, lower exports and a weakening currency. In the long term, China will also have to deal with a decreasing and rapidly ageing population.
Beyond that, though, China could eventually take a more direct stance against Tesla. Though this may seem far-fetched, the recent ban on Apple's iPhone could be a sign of things to come.
China is reportedly going to forbid government employees from using iPhones. This also extends to employees of government-owned companies. The move comes as China tries to lessen its dependence on foreign technology.
Limiting personal use of iPhones, which could access local networks and collect environmental data, aligns with the government's commitment to bolster cybersecurity,
Apparently, the CCP is concerned about security. I wonder if they will ever consider that Tesla, essentially a four-wheeled data-collecting machine, will pose a threat to the country's cybersecurity.
Interestingly, China's ban comes just as the Huawei Mate 60 is being released, a phone which could stand to give the iPhone 15 a run for its money. Well, that certainly looks to be the case in China.
But surely, Tesla's unique brand and design will prevent it from suffering the same fate as Apple. Maybe not.
Geely (OTCPK:GELYF), a Chinese automaker, is preparing to unveil its new model by the end of 2023 in Israel.
The Chinese automotive company is now unveiling a teaser version of its upcoming 001 model called FR (short for Future Roads), trying to compete with Tesla's Model S Plaid.
This car allegedly accelerates to 100km/h in 2.07 seconds, which is 0.03 seconds faster than the Model S Plaid, but who's counting?
Takeaway
When all is said and done, I still think Tesla is worth owning, and I do agree with MS's assessment that it should be valued as a tech company. However, I think this rise in price target is somewhat irresponsible. MS discusses all the potential without paying any attention to the huge risks posed by China.